A night on the town is always sexy, but you can create your own allure with a stay-at-home date night that's just as juicy. There's no reason to step out when you have everything you need right at home.
Plan a romantic evening in to remember with your special someone and you won't miss the crowds or cost of going out. Your partner will enjoy the relaxed atmosphere and your sense of creativity when it comes to keeping it hot…at home.
These three fun at-home date night ideas below are sure to please, proving having a good time doesn't require reservations.
Fondue and Fine Wine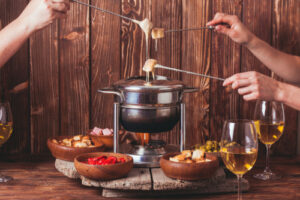 A steamy pot of fondue and a nice bottle of wine will hit the spot. Go for something savory with a blend of cheeses or stir up something sweet like dark chocolate mixed with gooey caramel and heavy cream. Supply all the treats to dip into the pot, such as crusty bread bites, long pretzel sticks, veggies and fruit, and whatever else comes to mind.
Step up your gourmet game by tenderly feeding one another your bubbling creation. Wash the food down with a full-bodied merlot or a light prosecco. You certainly don't need a full plate of food to satisfy your hunger, and fondue is the perfect mini meal for getting in the mood.
Binge-Watching with Your "Boo"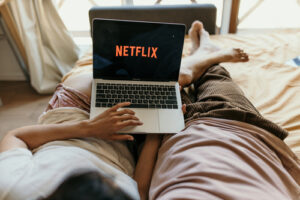 Staying at home means you can snuggle up in your jammies and get cozy. Catch up on your favorite must-see TV series or watch those movies you've heard rave reviews about from your friends. No theater, no problem.
Pop a giant bowl of extra-butter popcorn to share, serve some hot cocoa with marshmallows and whipped cream, and get comfy on the couch under a giant blanket. You have all night to be entertained, so be sure you are wide awake before it is time to settle in and binge. Perhaps perking up with some coffee beforehand wouldn't be a bad idea!
Good Old-Fashioned Game Night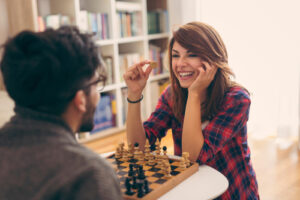 Bring out the board games, a deck of cards, or even a box of Dominos. Dust off that old "Twister" and get all tangled up together. It's fun to dive into some friendly competition, and a game night date at home is the best way to bond.
If you do not have anything to play with, there's always a game of charades to fall back on. Then again, there are plenty of online games you can download, so poke around through the apps for something you're both eager to enjoy.
Relive your childhood with a new sense of silliness. You don't have to be serious all the time, and game night will get you feeling like a kid again.
Perhaps the winner gets to choose the next date night plans!
Have tons of fun with your partner without setting foot out the front door. There's so much you can do right at home if you use your imagination. If all else fails, there's always dinner for two at your dining room table or breakfast in bed. Better yet…do both!