Let's face it: collectively, our hair(s) is having a tough moment. Salons, if they're still open, have long waiting lists for appointments and have to be vetted for safety measures. You wouldn't think — at least I didn't back in March— that this would be a huge issue. After all, with a global pandemic happening, we haven't really been going anywhere but to our Zoom meetings and the supermarket. The economy is forcing us to tighten our belts and make certain sacrifices, some of which are easier to swallow than others. (I don't know about you but eating at restaurants suddenly seems like an unnecessary luxury to me. Going to the movies is another story, but …)
When everything started, I figured a few things:
One, I'd have gray roots and split ends for maybe a month or two, tops. When two months turned into four, and four turned into six, I realized I had to take matters into my own hands and do some research.
Everyone knows that box dye and box dyed hair is anathema to stylists, but these are unprecedented times, and as we are all learning so well, those call for unprecedented measures. Besides, not all box dyes are alike. There are some high-end versions that have extras like keratin or online shade matching services. Below are a few tricks to getting that prized 'salon look' via a DIY dye job right from your very own home.
1. Get Real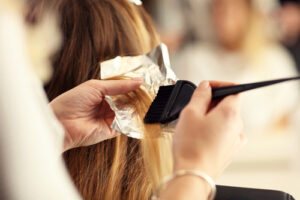 Let's talk color. I'll start with the bad news: now is not, I repeat NOT, the time to make a drastic change to your hair color, and by drastic, I mean going from black to anything or going from anything but blonde — to blonde. In other words, if you want to go lighter safely and without risk, make that appointment with a professional. However, if we're just talking root coverage or a half shade adjustment color refresh, there's no reason why you can't DIY it up. Take it from a woman whose grays started saying hello when her age began with a '2' and ended with a '6'. Gotta love genetics.
2. Build your perfect DIY toolkit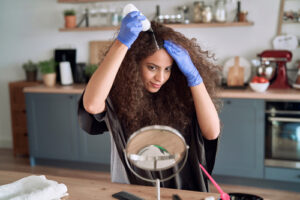 So, what are the essential ingredients when it comes to a successful, salon-worthy home dye job? Well, that depends on what you're looking to do. If you want to cover up those gray roots, check out dpHue's Root Touch Up Kit, which is super gentle and simple to use. It even comes with its own bowl, gloves, and brush.
If you want longer-term coverage, go with a traditional box dye like Nice n' Easy by Clairol or Revlon Colorsilk. This InStyle article includes a detailed list of customized box color offerings depending on hair type. The main decision rests in how long you'd like the color to last. Demi-permanent hair color is ammonia free and does not penetrate the strand, generally washing out gradually. Permanent color is less forgiving, but lasts … you guessed it— permanently, leaving a definitive line where your roots grow in.
The essential items you'll need no matter what kind of hair dye you're using are:
-gloves
-a mixing bowl
-makeup remover wipes
-Vaseline or clear lip balm
-a hand mirror
Make sure to spread a thin layer of Vaseline or clear lip balm just below your hairline all around the head, including the back of your neck and around your ears. If you do happen to goof up and get dye on your skin, (don't worry, we all have been there!) make sure to use the makeup removal wipes immediately by rubbing the spot firmly and carefully, avoiding your hair.
3. Have a Plan B
You'll need an alternate plan if things don't work out, or if your results look anything from 'different from what you imagined' to downright disastrous. Let's be honest—you might just need two or three alternate plans. Including a list of 'sneaky' products that do not add up to hair dye per se but look like the results you'd get if you used it. For example, there are some amazing root touch up powders, sprays and crayons that do a wonderful job in a pinch.
4. Reach out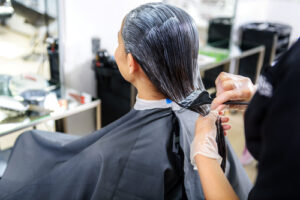 If all else fails, reach out to your colorist to see if they offer this service, and schedule a virtual consult. Pay them for their time via Venmo, of course. This way, you'll be helping them, and they will definitely be helping you. When it comes right down to it, healthy, well cared-for hair is beautiful hair. Always, always condition your hair after you color it, do your research based on your hair type, shade, and texture— and you'll get to see people's jaws drop when you confess to being your own genius stylist!