Even though we're in the middle of a pandemic, we still need to be able to go places (safely). Now that we are stuck at home, we miss being able to just get in the car and drive places. Since we have not been using our car as much as normal, we start to notice little things here and there that we never noticed before.
Maybe we never took care of our car the way we should
Maybe the knocks and sounds that we've been used to now are more concerning
Maybe the car is close to breaking down
Either way, you start thinking about getting a new car. Maybe you have been able to save up some money since you're not driving as much. Maybe you have been waiting for just the right time to get a new car, and now seems as good as any.
Now that you know you want a new car, you also want to be safe about buying a car. You can't just go to the dealership and spend all day test-driving cars and talking to different salespeople. You need to be able to look for a car from the comfort of your own home.
Here are 5 great tips for buying a car online.
Figure Out Your Budget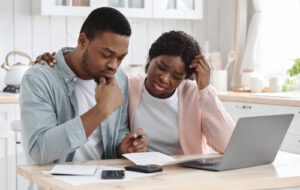 Before you start looking at cars, you need to understand how much you are willing to spend on a car. There are different car loan calculators online that you can use to determine how much you can afford based on your finances (income, debt, etc.). Even those these calculators can show you how much you would be spending on the car loan itself, you need to be aware of other factors. Car insurance and gas should also be considered when planning your budget for a car.
Get Pre-Approved for a Loan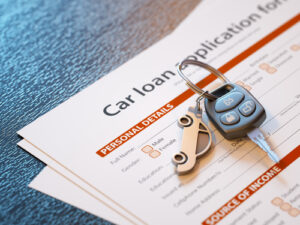 Once you have decided your budget, the next step is to check your expectations against the reality. In this case, it means going to a bank and getting pre-approved for a loan. Banks will review your finances and determine how much they are willing to loan you. Even if the amount they offer is lower than you though, you now know the exact numbers you are working with so you can make the best financial decision.
Research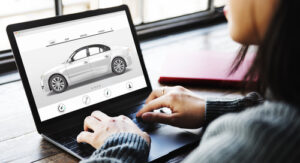 Long gone are the days where people would walk into car dealerships clueless and just hope the salesperson didn't try and overcharge them.  Now, you have many resources online that ensure you go into a car search with helpful knowledge.
You can find out a car's MSRP (Manufacturer's Suggested Retail Price), along with your current car's trade-in values and reviews. You may have a certain car in mind, but upon research, find out there are many negative reviews. Researching your current and potential future car's information will give you the confidence that you will be getting a good deal. Sites like Edmunds, Cars.com, and Car Gurus offer reliable car reviews that give you a deep insight into the cars you are interested in.
If you are buying used, you'll also need to know the car's history (like if it's ever been in an accident). Websites like Carfax and Autofax will show you a vehicle's history so you don't get a car that may look good but has a history of damage and repair (where just the maintenance needed may not be worth it).
Only Use Reputable Sites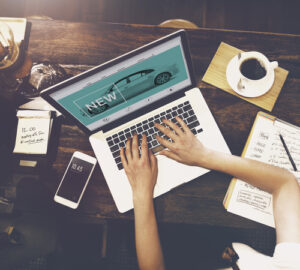 When looking to buy a car online, stick to the sites that seem credible/trustworthy. Autotrader, TrueCar, and Carvana are examples of sites that specialize in online car sales, so their processes are easy to navigate to find the car for you. Sure, you can get a car on a social media site like Facebook Marketplace or Craigslist, but there are no guarantees or practices in place to protect the buyer (you). Just because the process is easier or quicker does not mean it is better.
Test Drive the Car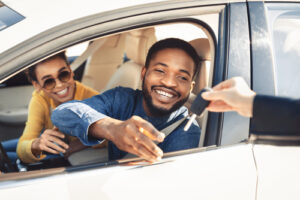 The benefit of buying a car online is being able to take your time, do your research, and browse from the comfort of your home. However, when you have narrowed down the list of the potential cars, you will still need to test drive them. You may like a car that, online, seems perfect for you, but then you test drive it and it just doesn't feel right. Your comfort is important to your enjoyment of the car, and you don't want to buy a car that is uncomfortable/not right for you just because it was cheap.
Also, if you are buying a used car, it is critical that you take it to a mechanic before buying it. There may be lots of issues, and the money it will take to fix them will be much more expensive than buying another car that may be a little more expensive.
Buying a car online is a much less stressful experience than going into multiple dealerships and trying to decipher all the lingo that salespeople use. It gives you the gift of time to approach this huge purchase in a calm and controlled way. These tips will help you pick the car that is right for you so you can enjoy your new ride, even if you don't have anywhere to go.